Our Mission
To provide the best of care to our patients, and the best of service to our clients.
Our Founder
Dr. Ferguson considers himself a horseman as well as a veterinarian. Respect for the horse has and always will be paramount to guiding his way of life. Graduating from the University of Florida in 1976 with a Bachelor of Science degree in animal science, he went to work at the prestigious Hobeau Farm in Ocala, Florida. The farm had bred and raced many great horses, including two different horses to beat Secretariat, Prove Out and Onion. After two years working there, and a year working for a large veterinary practice, M.B.Teigland and Associates, at south Florida racetracks, he entered the University of Florida College of Veterinary Medicine.
He got all As, and graduated with the distinguished Upjohn Award for best equine student clinician, in 1983. He went back to Dr. Teigland's practice for another four years before starting his own practice in Ocala, Florida, in 1987.
Although proficient in all areas of equine practice, Dr. Ferguson's primary interest has always been the racehorse, with emphasis on diagnosis and therapeutic options in racehorse injuries. Current interests also include acupuncture, his in-process study on bleeding in the racehorse, standing arthroscopic surgery, and innovative ideas on treatment of tendinitis and suspensory desmitis.
For a short period of time, Dr. Ferguson maintained a racing stable and is quite aware of the pitfalls of racehorse ownership. He still breeds and races a select few and maintains a farm and retreat center (Gleneden) with his wife, columnist and author, Jan Denise.
Dr. Ferguson is a member of AVMA, FVMA, AAEP, and FAEP. He is currently licensed in the states of Florida, Kentucky, Maryland, New York, Pennsylvania, Illinois, Louisiana, Georgia, California, Texas and South Carolina. His is also a licensed pilot … and ready to go where you need him.
Our Clients
Happy!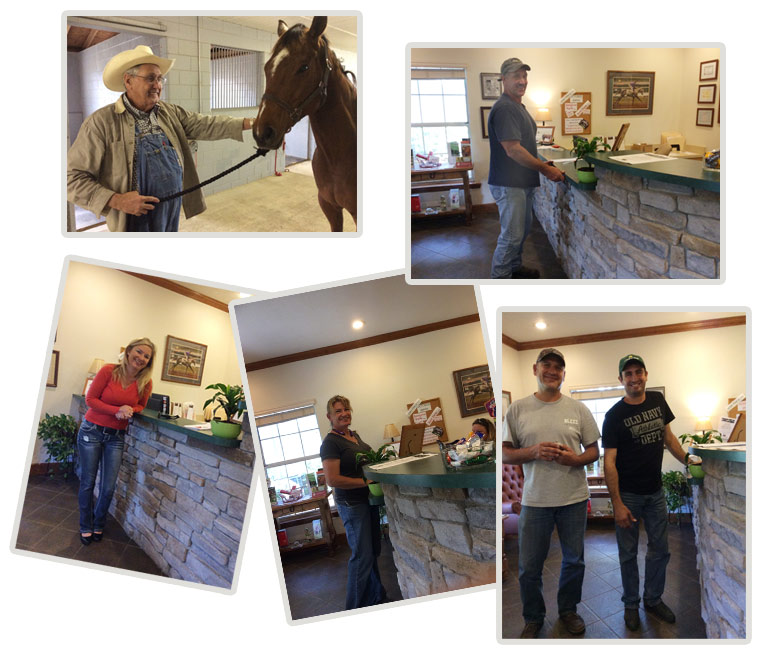 Meet Our Associates