Introduction
Although the concept of standing arthroscopic examination and surgery is not new in the horse, recent technological advances have made the concept more feasible. Older more conventional equipment consists of a large bank of equipment with multiple hoses for lavage and light sources. The arthroscope itself is also relatively large.
More recent specially designed equipment is extremely streamlined and the arthroscope itself is no larger than an 18gauge needle. These scopes are commonly called "needle scopes". They certainly have a more limited field of view and much less lavage or flushing capabilities, but most recently noted surgeon Dr. David Frisbie of Colorado State University has been performing standing arthroscopic examinations of the stifle in horses. After attending his lecture a couple of years ago, it struck Dr. Ferguson that such a tool might be useful in performing some relatively simplistic arthroscopic surgeries in the front ankles of horses. These "PI chips" as are commonly referred to, are an extremely common injury in young training thoroughbred racehorses, which comprise a large part of Dr. Ferguson's practice. This procedure would not only be much safer than anesthesia and the associated recovery problems, but also be much less labor and equipment intensive, more efficient, and therefore more economical.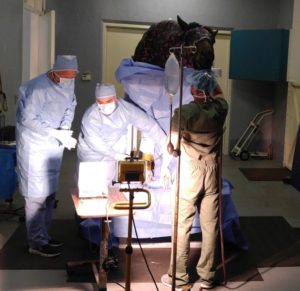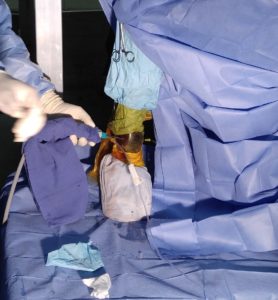 Initial procedures were performed with the horse standing on the ground. The procedure, though "doable" left much to be desired for veterinary comfort. Kneeling on the ground just wasn't going to work. So in the last year Dr. Ferguson had a set of custom stocks manufactured such that the horse is 18″ off the ground and the surgeons can literally perform the procedure standing.
March 2, 2017

H.O. Ferguson, DVM